Ummm X3!!! Introduce about two male artist i really like recently!!!~
~~
(The one in the middle!)
Hehe, his name is Chen Po-Lin 陳柏霖! He got act in "The Eye 10"! After watching him in "Twins Effect II" really really like him (Somemore plus he and Ah Sa, somemore his character so kawaii, etc etc XD!)!!!~
He is a very famous actor in Taiwan, and "Twins Effect II" is his first movie in HK! I find his voice very sexy when he speaks cantonese X3!!! Maybe thats what that really attracted me?? I prefer to listen to him speak cantonese actually XP!!!~
Hmm... think either Monday morning or Tuesday dream of him... very sweet punya dream XD!!!~ Shee, not going to tell anyone X3!!!~
~~
Another one is the ex-member of Boy'z, Kenny Kwan 關智斌 (Why ex-member? I lazy explain, go find out yourself or ask me in person lar ok? Kamxia XP!)!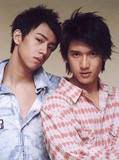 (He is uber sexiness in this picture X3!!! But the original one is really huge (0_0!), so have to do with the smaller one ler XP!!! Still looks hot too anyway X3!!!)
He debuted as Boy'z! I've liked him everysince he debuted! But now the feelings grew stronger ler XD!!!~
Now he is going solo, wish him all his best!
Like to see him act and sing alot! He is very cute, but he is sexy too in a way XD!!! Too bad when Twins and Boy'z pair up, he is with Ah Kiu! But hehe, in a few movies dee he act opposite Ah Sa one XD!!! I'm ok with that, even though theres quite little erm, "intimate" scenes lar XP!!!~
Ok lar, until here, i lazy write dee XP!!! Hehehe!!!~ Ja XD!!!~