Many thanks to
Auntie
, Wenny-unnie and Saf-unnie for the CD (^^ )!~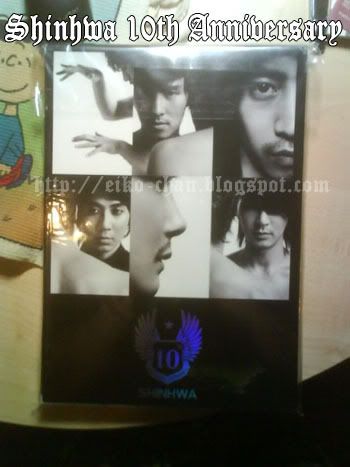 Because Wenny-unnie bought it, then pass to Saf-unnie and pass to
Auntie Omma
!
많이 쌩유베리감사해요!~
And mind, its not
light
at all!
Thank you!~
I love it so much, that after seeing it once i sealed it back into the bag again, and hide it someplace somewhere never to be taken out or to be found ever again!
In case anyone decides to take it away from me!!
Because its
limited edition
!~
Auntie
say
not for-sale
anymore =D!
So, better safe than sorry!!
Mwehehehehehehehehehehehehehehehee!~
*While being in extreme happiness and laughing like a mad woman, she didn't notice
HeeChul
and
KangIn
taking the CD and hiding it somewhere only they knows, never to be find by
kimchi
again...*
.
.
.
ㅋㅋㅋ ♪!~
Happy 10th Anniversary
!~