Katz Tales
is an article about cats featured in
The Star
's
Weekender
every fortnight!
They have this ongoing contest in every issue for cat owners to send in the cutest picture of their baby to win a RM150 hamper.
They only accept applications by post, although from the website, they do provide an email address... so being lazy, i send
HeeChul
's application through email
TWICE
... but there was no reply nor was
HeeChul
featured in any future issues.
Naturally, i was
appalled
, come on,
Her Royal Highness
has
got
to be one of the cutest things alive! Its
impossible
she didn't win, especially when other pictures who are not as cute as her had won!
So i decided to mail in an entry by post. I mailed my entry last Wednesday (9th July 2008) or so?
And in this week's
Weekender
, 19th July 2008,
HeeChul
is featured as one of the winning babies =D!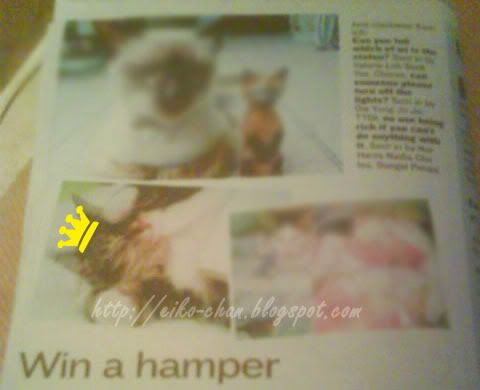 Isn't
my baby
adorable?
I'll post a clearer version soon! Too excited for now i lazy go get my camera!~
That's why i said, it's
IMPOSSIBLE
HeeChul
didn't win! She's the most adorable thing ever, and previous pics i've send through email are even
cuter
than this one!
Well,
whaddya
know, it's not that she wasn't chosen, instead,
it's just because they didn't get her picture
=)!
I'm so proud of
my baby
!~
She's a star now XD!!