Disclaimer

: Pictures below are all taken by me, otherwise credited. All photos are NOT

photoshopped

in any way to retain its original beauty or original feel, because i want to show everyone just how beautiful

Redang

is that i love it so much.
That said, i have all the rights to photoshop

any

of the "living creatures" in the pictures. Just because.
---
Previous episodes:
Redang - pre-arrival
Redang Day 1 - Part 1
Redang Day 1 - Part 2
This will be seriously long because i'm lazy to cut it into two parts, and i've taken loads of pictures. Lols!
Scratch
the initial idea - there's really is
too many pics
and stuffs and i want to share all, if possible, that if i don't cut into two parts, it'll be
freaking long
that by the time you finish reading you'll would be in the coffin.
Ok, on our second day... well, we initially wanted to catch the sunrise, *
BUT
* because i was afraid i would be lacking sleep and therefore might puke during snorkeling... so i refused to wake up... since they
fail
to get me to wake up, so... we slept till breakfast =D!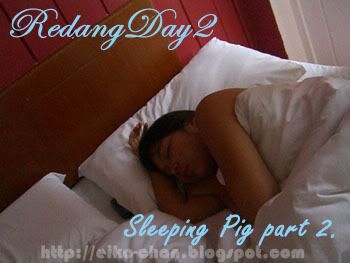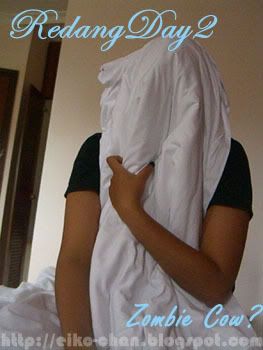 Just in case you're wondering,
Amanda
is a Cow so she gets the single bed, me and
Jing Wen
shared the double with her nearer to the window.
Hmm... i hoped i kicked her at night =D! Lols!
We went for breakfast, the porridge was good! But sorry, no food pictures because i was busy eating =P!
After
makan
, since there isn't much people around, i took the opportunity to take lotsa pics of my beloved
Pasir Panjang
!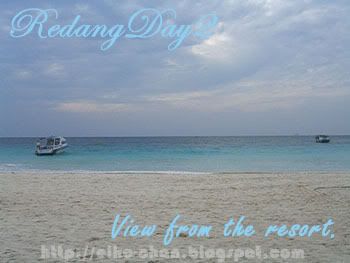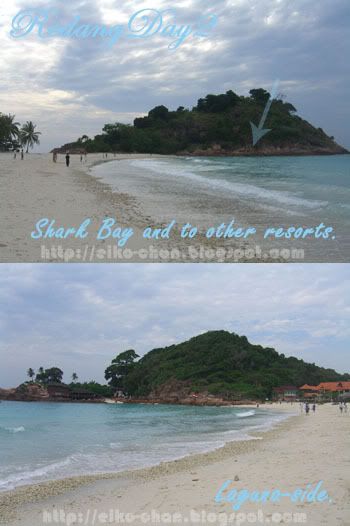 The second picture, the one with the arrow, is pointing at
Shark Bay
, where i saw the
baby Sharks
!
If you walk towards the left, you can reach the other side of
Pasir Panjang
with more resorts!
Whereas the last picture,
Laguna
's side, you can catch a glimpse of
More-More Tea Inn
=D!
Yes, i'm
obsessed
with that place, so stop wondering why i mention it so many times.
And then...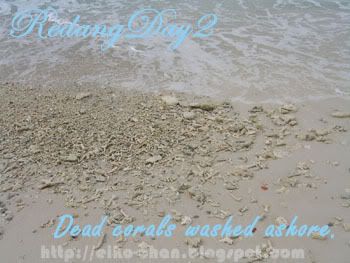 These are
everyone
's feet's
worst enemy
. Imagine you have to walk barefoot all over it. OUCH!
I guess it's a bit
padan muka
to ourselves as well; you see, a lot of corals die mostly due to us, humans, destroying them or pollution etc. Some people actually don't care whether or not they are stepping on them while snorkeling, and ultimately leads to killing them. So to revenge, when they die they get wash ashore so as to hurt our feet when we walk on them. Ah, the
sweetness of revenge
, lols!
Us by the hammock with
East Sea
as the background!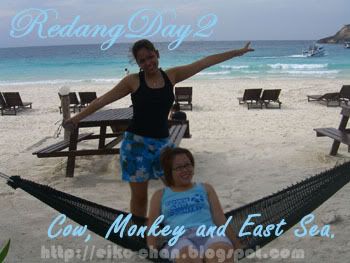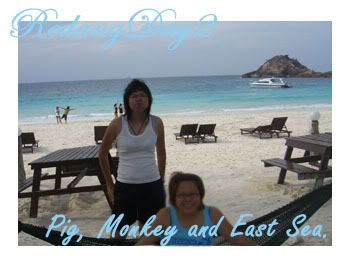 Isn't the
Pig
adorable XD!
After that we got back to the room, we gathered our snorkeling stuffs and get ready for snorkeling at
Marine Park
! Yeah!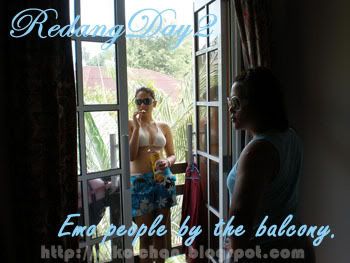 Credits:

Amanda
I love this picture, so retarded!
Then we got to the beach and waited there for our snorkeling trip. While waiting, we took
loads
of pics too. I was taking pics of myself with
the beach
as the background, but this
stupid Cow
was walking
all over the place
behind me, so every shot's background also has her
Cow essence
inside... YUCK!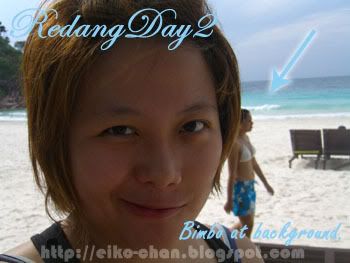 See the
bo-liao
at the back? I was taking a few shots this way... and
ALL
of it has that
Cow
behind. Ugh.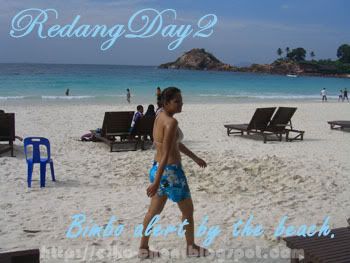 Credits:

Amanda
She's damn happy she looks like a lost kid walking all over my background. Retarded.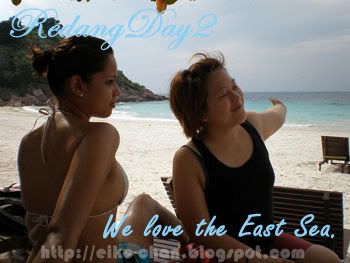 Credits:

Amanda




Then it's snorkeling time!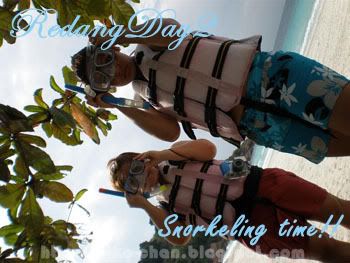 Credits:

Amanda
Oh, i wanted to rent an underwater camera for our
Marine Park
trip, but our resort's underwater camera were all rented out, so i had to run to
Redang Bay
to rent theirs. And yeah,
Redang people are super friendly
, and *
think
* they are really funny too lols! When i asked for the camera, the guy was like,
"Ah, i reserve this one specially for you..."
because it was their
last camera
available for rent, so... lols!
I'll show more of my underwater pics in another post, i don't want to stretch this post too long!
Anyways, then,
Marine Park
!
On the boat on our way there!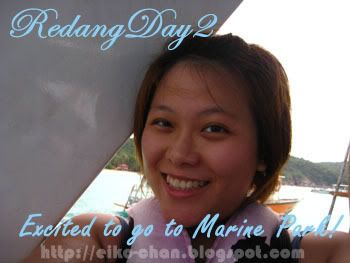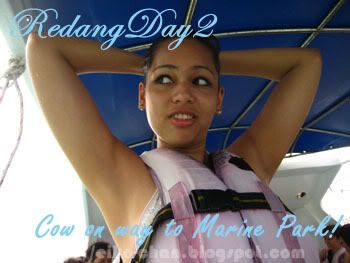 Hmm... i swear life-jackets makes you looked thinner, lols!
When we reach, they gave us a loaf of bread to feed the fishes, and then we followed the snorkeling guide around. He brought us to see the
resident garoupa
(super huge) staying there! He even lured him out from under the rock by feeding the fish, er,
fish
...
After that, we went to visit the two
moray eels
who stayed under the jetty! Coolness!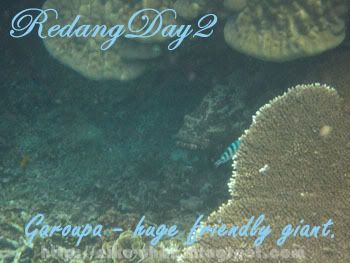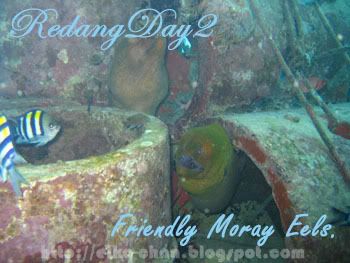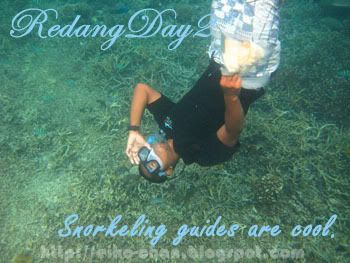 Seriously, all the snorkeling guides are like, super cool! They can actually just dive down for a few minutes without the need to get up to breath as often as we need! And they are just naturals at the sea, you can't help but admire them!
But halfway looking at the eels, i felt
seasick
, and actually
puked
in the ocean (yeah for the fishies?) while i was trying to swim back to the shore... at same time. Ugh. Don't think about it anymore.
At the same time,
Amanda
cut her leg, so they too came back onshore to put medicine.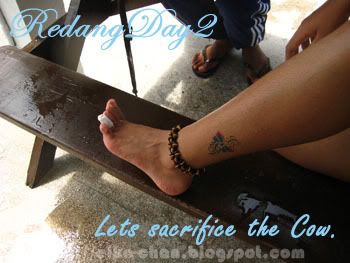 I suggested we should sacrifice her, since she's already bleeding, by throwing her into the ocean to attract the sharks... but nobody supported the idea =(...
This is the
shipwreck near the jetty
. Its actually
dangerous
to go there cause of the currents, but thanks to
Amanda
(read
The Bimbotic Kid
's introduction), and the nice snorkeling guide, he brought us there after we rested enough (i rested from seasick,
Amanda
from her cut).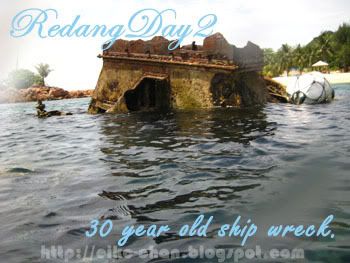 It was cool, because not a lot of people will go there (advised by the guide not to cause of the current), and the corals there are rather untouched!
Nice purple ones
!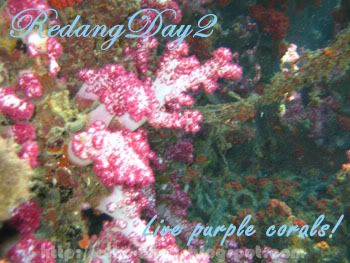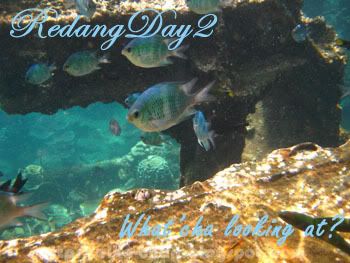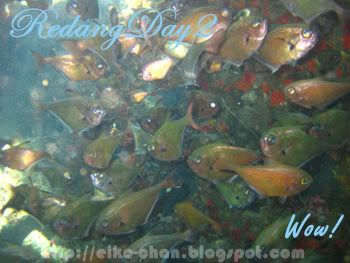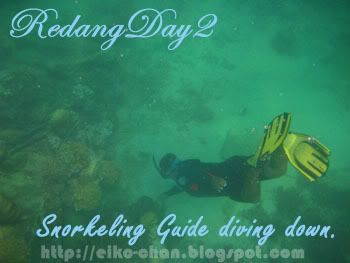 The guide diving down to get stuffs up for us to see! Damn cool right?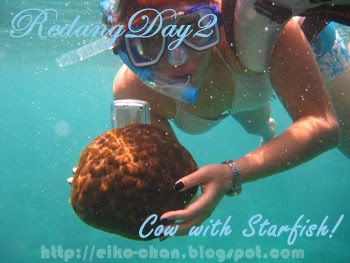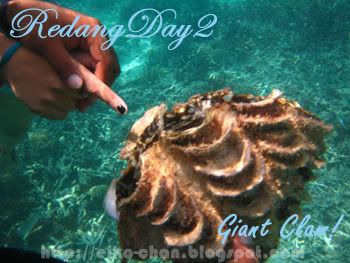 He got us
Starfish
(that rock-like thingy),
Sea Cucumber
and
Giant Clam
! Nice!
After snorkeling we went to wash off with
fresh mountain water
! COOLING!
Thankfully, i didn't vomit after the second snorkeling trip, but i did feel nausea; luckily we have to get back up before i did =P!
Again, my biggest dream was to see
sea turtles
, but too bad... none.
*cries*
Oh, but i was so happy to see
hatched turtle eggs
! The guide said the eggs hatched a few days ago and they release them
all
to the sea, though sometimes they do keep the hatchlings for awhile before releasing!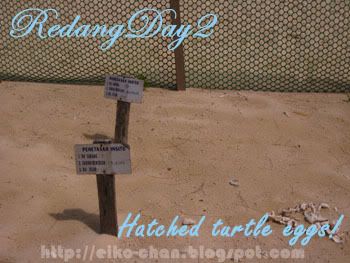 I think its a good idea, by raising the hatchlings till their older before they are released, it actually increases the chances of them surviving till adulthood!
Oh back to
Marine Park
; after we wash off, it's time to get back to the boat to head back to
Pasir Panjang
. We're the last ones to get on boat because we snorkeled for a very long time the second time! The guide said if we have more time, he actually wanted to bring us further to see more stuffs! Too bad (but secretly i was
sorta
glad because i was afraid i would puke again
again
=P!)!!
Back to
Pasir Panjang
!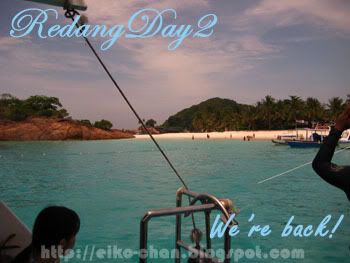 Ooh, i forgot to add that the waves was pretty strong that day, that we couldn't get on the boat from our side of the beach (the beach in front of our resort), so we have to go from the other side of
Pasir Panjang
(where the other resorts are).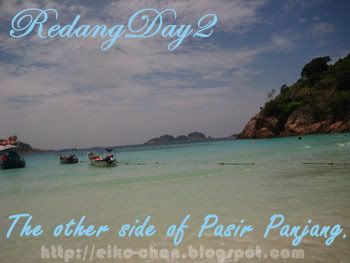 We had to wade into the water to get on the boat (same when we get back), but it was fun!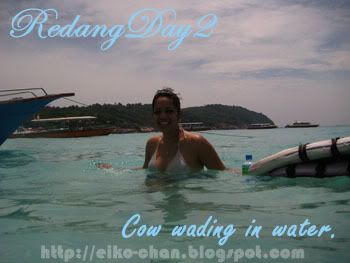 Amanda
wading back to shore after we got back from
Marine Park
!
Jing
didn't come with us this time, as she was still in a "
seasick-mode
" from the last snorkeling trip, so she became our "mum" sending us off for snorkeling, and waiting for us to come back so she could pick us up!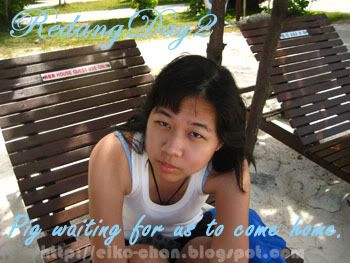 She's a darling really. She can't swim, but she still very sporting, and allowed us to teach her at
Shark Bay
before the first snorkeling trip. Even though we didn't teach her well then, she still came with us for snorkeling!
Both us
Cow and Monkey
are meanies, because since its our
first
snorkeling trip the day before, we actually
abandon
leave her alone with the snorkeling guide, and we swim off ourselves. But she still didn't mind, on the other hand,
she said she understand that of course we would want to enjoy ourselves since its the first trip
.
Jing
is seriously the
most darling-est person in the world
!! I was already very thankful to her that she
still
wanted to come to
Redang
with us, despite being low in budget for the month (she's going to
Tioman Island
a few weeks after our
Redang
trip, thus the low-budget)!
Thanks
sayang
!
Next post -
Sunburn
and
BIG SHARK
!