People who has been on trips with me would probably know that i have the world's
weirdest
funniest sleeping poses ever.
No, seriously.
That is, if you're hardworking enough to wake up before me (very easy to accomplish, this one), or "lucky", of course.
Anyways, if i'm sleeping in my room, when i'm half awake i like to sit up, blink blink stare around... then i'll fall back asleep on my side, like in a curved position, with my head near to HeeChul's Royal Bedchamber, which is right next to my bed.
Coincidentally (i guess), that very day... well, i'll let the picture do the talking.
Yes, like that.
Like mother like daughter (i wanted to say "like owner like pet", but then HRH Princess Kim HeeChul would start a debate with me on WHO is the owner, and WHO is the pet. Seriously.).
Do you think we look "
alike
" =D?
Actually this is a "remake".
Rainbow
said the real thing she saw (since she'll always wake up before me!) was even more alike!! But she couldn't find the camera, and i woke up after that, so there was no
evidence
of the "original real pose"... but i find it quite amusing, so i "reenacted" the scene for her to take a picture!
And what do HRH Princess HeeChul think about this??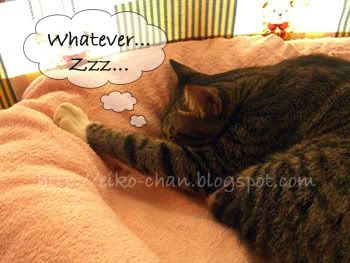 Typical. Hmph.